Why Buy A House Without Representation??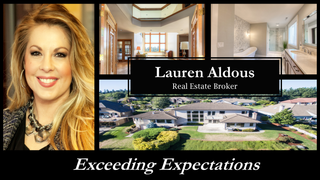 Location:
Vancouver, WA
Lauren is not about turning and burning. She focuses on building rapport and facilitating smooth transactions. After decades of working in the customer service industry and analyzing any past dissatisfaction, she concluded that when people are listened to and not rushed into making decisions, it helps encourage a better all around experience for the client. So far, Lauren's theory has proven true...just reading her client reviews authenticates her theory.
Lauren recently stated, "My clients can always count on me to be open and honest, to answer my phone/text when they need me and to understand that buying and selling can be such an emotional time. Whether it's $50k or $50M, I know each person worked hard for their money; dollar amount is irrelevant to me."
With over 26 years of customer service experience and 19 years in real estate, Lauren has the experience needed to provide the best customer service to her clientele.
Working with Lauren will be the smartest "move" you make.
#LaurenAldousRealtor


Certified Negotiations Expert

2004 SE 192nd Ave
Vancouver, WA 98683
View Map
Service Area:
Clark County, WA
Service Type:
Real Estate
Certified Negotiation Expert
All information in this site is deemed reliable but is not guaranteed and is subject to change